Testimonials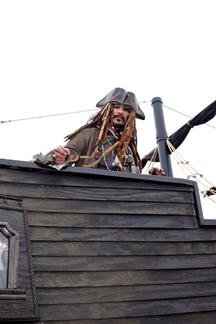 "When I decided to do a Luau theme for my Mom's 85th surprise Birthday party, it seemed to be a natural progression to seek out a pirate for the entertainment to crash the party. What could be more fun!?
But we didn't just find ANY pirate when we found Elizabeth Swann and Captain Jack Sparrow!
Elizabeth and the Captain (aka Dana and Fred) were communicative before the event, well organized, and from the moment they entered the party to the time they left-- highly entertaining.
We found THE Captain in my book.
I could not have asked for the event to be better. Captain Jack and Elizabeth also brought along two more surprise guests in the Queen and King, who knighted my Mother for her service and her life. It was so sweet it brought me to tears.... considering that she has not been in good health, I wanted this to be a special party and it was. The kids are still talking about it--The treasure hunt, the tug of war, the pirate training events! And the adults are still talking about it too! I have had several people tell me this was the "best party ever." And Elizabeth and Captain Jack were such a large part of the heart of it! " -- Renee
Had a request to make a video for one of my past clients. Here is her comments on it: " I began today with the both of you...the boys were standing out of their chairs and their jaws dropped! It was a delight to watch them as they attentively listened to Cap'n Jack Sparrow give encouragement for the students to study. I was "all smiles" and delighted to see their reaction. It is so refreshing for students to hear from their "heroes" and to know that people are watching them and to encourage this generation to attain their dreams! Thank you for reminding them to "dream", it can be very easy for us (adults) to shoo away the "dreamers". You both MADE. THEIR. DAY.
Once again, thank you! NancyR
Thank you very much :) You both were wonderful as well! I could not have asked for a better "Pair of Pirates". Grange and all the guests raved about you both after you left. The adults had just as much fun as the kids. This will be a party he will remember for a lifetime.
Best Wishes, A.C.
Captain and Ms. Swann (Mr. Fred and Ms. Dana)
Last night was awesome!!!
Thank you so much for making our first Talk Like a Pirate event so amazing!
Kids and adults just loved that you were here. We heard nothing but praise.
I will share your contact information with other libraries. I hope that something will come of it for you!
You will probably make the Sachse Newspaper, as the gentleman was here taking pictures last night.
Thank you once again and I look forward to working with you both in the future.
Warmest regards! TK
Sachse Public Library
​
Surpassed Elevated Expectations Given all the glowing reviews on Pair of Pirates, our expectations were already high for the event. We bring in several people/companies each year for corporate entertainment. This was by far one of our favorite events and employees are still talking about how much fun they had. Once Jack Sparrow finished the main birthday event (which involved everyone in the room and was an absolute hit), he then went around the building and had charming/funny/creative conversations with everyone and each person has the pictures to prove it and show their families. He utilizes all the props masterfully and comes up with new ideas along the way. I don't think anyone stopped laughing or smiling once he entered the room.
It is evident from the first time that you contact Pair of Pirates that they love what they do. The communication is first rate, the event was one of our best and we'll definitely want to see them again.
JK
Amazing! Even not in person!
So we were actually unable to book Capt. Jack Sparrow to come to my sons 4th birthday party. However, He and Elizabeth (Swan) were able to record a personalized video for my son! In addition to that, they also sent him a pirate certificate that I was to present him with when he watched the video! Ms. Elizabeth was so pleasant to talk to and was great at communicating with me! I am so thankful that they could make my sons day so special! Would highly recommend them! Christa C
We hired Cat Sparrow and Elizabeth Swan for a 4 year old's birthday party May 21st in Frisco. About 15 kids attending. They were quite detailed in their preparations prior to the party date and had some great ideas to help make the party better with pirate entertainment. We have a large yard with chickens and a big dog - they took everything in stride. Great acting/role playing - they fit into their characters with expertise. Beyond that they were skilled party entertainers. It was more than I expected and well worth the money. L McCallon
We were really amazed and pleased with the whole Pirate experience! Thank you guys for coming out and I look forward to having you back again.
Thanks,M kids sun limited
Thank you again. Fred was amazing with the kids, He did wonderful, Everyone loved him. Even our shy boy came around to liking him. I'm sure the Kids will be talking about you all summer. Therapy Ranch
Thanks again for the entertainment you and "Jack Sparrow" provided for us. The kids really enjoyed the activities you guys provided. You provided enough games to keep the kids busy. Everyone liked your costumes. Thanks again and hope to see you in the near future. I.D
Thank you both very much for a memorable event for our Blue & Gold! It was something our pack has never done (entertainment during dinner) and based on the feedback, I think it is certainly something we will continue to do! R
Just wanted to thank you for a great performance Friday night at the Margaretville & RiverSpirit Casino Resort VIP Halloween Party. We received lots of compliments. J C
Texarkana Fair.. My favorite was watching the pirate school. KC
I am always on a mission to find a jewel to create memories in our children's ministry at our church. The Pair of Pirates was truly a found gem! Our month's theme was "Pirates" and I wanted to find a "surprise" for the children....and Captain Jack Sparrow and Elizabeth Swan were beyond my expectations.
The e-mails, phone calls, and texts made it simple to know the night with the Pirates were in good and dependable hands! I was impressed with the communication. Captain Sparrow assured me that I could rely on their preparations for games and other activities. I could relax and enjoy the evening!
The children followed Captain Sparrow around and were entranced by his forthrightness and well, just being Captain Sparrow! He was willing to listen and answer the children's questions as well as being patient with the many pictures taken by teens and parents. Elizabeth Swan is a lovely pirate and a truly a cheerleader for Captain Sparrow. The younger children were drawn to her and her sweet nature made the younger children feel safe.
I wish we had more time with Captain Sparrow and with Elizabeth Swan, I am confident that we will be contacting the Pair of Pirates again.
Thank you for creating a memory within the children's lives, they had a wonderful time and the conversation will be happening for a while about their time with Captain Jack Sparrow and Elizabeth Swan! Nancy R
​​What a wonderful experience we had with Capt Jack Sparrow and his mate Elizabeth Swann. Our crowd was captivated, the surprise party for my friend Cathy's 60th Birthday was a success mostly due to the Pair of Pirates. Great fun for the young and young at heart. Pam W
You did awesome! Autumn G
You both did an amazing job! Everyone loved you guys! And you donating the tip back to education foundation was truly appreciated. We raised over $25,000 yesterday...$10,000 over the projected amount! Thank you for being a part of that. M
Our little Green Mannikins LOVED your Captain Jack School for young Pirates Thank you so much for sharing your talent and enthusiasm with the little people!! GMC
Thank you so much for making Jonah's birthday one that we will never forget! Captain Jack and Elizabeth were so great with the children and put on such a great show.They are true professionals and are so great at what they do. Jonah and his friends had so much fun, especially with the balloon swordfighting! It was so awesome to see all the kids hanging out and having so much fun with real pirates. Jonah is still runnning around the house with his eye patch on and he wouldn't let us wash off his sparrow tattoo for days. He was very adamant about that because it was a real pirate tattoo and "Captain Sparrow" gave it to him. He told everyone he saw. Thank you so much for making the long commute to Austin to make this the best birthday ever!! We truly appreciate it so much! I wish we could do this every weekend!! So much fun!! GH
Fred and Dana..Thanks so much for coming to our school and performing for the children!! I know they enjoyed it! CAS
So glad it worked out.. They were so excited & completely pleased! Thank you so much for making dreams come true! TJ
Thank you so much for making it out there and it was a blessing that the weather cleared just long enough. He was happy even without as many kids he is still telling everyone he met Jack Sparrow. You guys were great! I couldn't think of any improvements, everyone loved you guys sooo much. Even the adults were complimenting on ya'lls performance. MH
Absolutely Perfect!
They went above and beyond! Incredibly professional, very talented, and communicated very well. Would definitely hire again! AA (Made Johnny Depp Bday video)
Thank you for walking in the parade. Your group definitely adds to the parade. Look forward to having you back next year. Knights of Momus Grand Night Parade. Mardi Gras Galveston JL
A truly dedicated, entertaining and professional couple, who can bring joy to any age group. These people bring more than just a simulation of star power, they are the stars. Hilarious and rapier witted they entertain young and old with their embodiment of the essence of movie pirates. RenneS
You guys were absolutely fabulous at the Dell employee event last night. Your audience interaction helped make it a huge success - the kids had a wonderful time taking photos and balloon sword fighting (or in some cases just
staring at the cool pirates). Thank you so much for everything!!! JC
I attended a birthday party for two 5 year old boys this past weekend (April, 13th 2013) in which Captain Fred "Jack" Sparrow and Elizabeth Nightly were hired to entertain the children. I cannot even begin to describe how thrilled we all were with the experience! They arrived early for the party and were one of the last to leave. The kids constantly had something fun to do and it was just as fun to watch. You will think you literally invited two real pirates to your party or event. Captain Fred impersonates Captain Jack like a seasoned professional. It was just like watching Johnny Depp in the movie! Not only are they both amazing at what they do. They also truly care about your party and its guests. I cannot say enough wonderful things about these two people and how authentic they look and sound to what we would think a real life pirate would be like. The memories you and/or your child will have are priceless! Capt Fred and Elizabeth will make any party an instant hit! They even told us that the best compliment they received was the boys inviting them back over later to play. Now, how cool is
that? What wonderful people!
Thank you again Matey's! Hope to see you
both again soon! M N
Dear Captain Jack and Elizabeth , we all had an extremely fun time. Everyone including ourselves were very impressed with your performance and professionalism. This is one party we definitely will never forget and the boys love pirates even more now. You guys were awesome and the outfits were very detailed and also impressive. Y'all definitely get two thumbs up for a perfect performance. Thank you very much for making this day extra special for our family , friends , and our boys! G
Hi Captain Fred and Elizabeth,
Thanks for your good work and being an integral part of the party. I really appreciate your patience and active
engagement with the kids and being flexible with our plans. My son has been talking to all of his friends about the real pirates. And my daughter is still using her pirate attire. Thanks again.. R
Hey Anna friends, if you need to book a pair of pirates (Captain Jack Sparrow and Elizabeth Swann) for your next birthday party or event, please check out these guys! You may have seen them at the Anna GlowFest last year. I work with this man, and he's wonderful! They've been impersonating for a long time, and are branching out to events. Dedicated to their art and so professional! Check 'em out and spread the word, savvy? S N S
I must say your performance at the party was a blast. All the kids had such a great time!.. You nailed it!.M.R.
Thank You Both so Much for Today!! Yall stayed so Long and were so Wonderful to Our Son!! We Greatly
Appreciate Everything!
C and M
Thanks for yesterday!! Leo said. "I always wanted to meet a real Pirate" ES
Hi Dana, it was so nice to have you and husband for Andy's party. L Z
---