Book a Pair of Pirates


Have Captain Jack Sparrow and Elizabeth Swann impersonators perform at your next Pirate themed party or event. Why have one pirate when you can have two?
All the charm, wit and mayhem of both pirates.
Great for anniversaries, bar/bat Mitzvah, carnivals, conventions, corporate events, fairs, parades, birthday parties, parties, weddings
​ (I love weddings!) or any special event.(just ask)
For that extra special touch, The Captain has his ship the "Black Pearl"
that can be towed to any venue.
(see additional services below)
​

​

​Corporate events

Captain Jack and Elizabeth make the perfect pair for any corporate event that you are planning. His wit and her charm keep the guests entertained for hours. The Captain is not a shy one to go in front of the audience and introduce the guest of honor after telling a story or two. Quite often you will hear Elizabeth tell one of her famous pirate jokes.

​
​






Pirate Birthday Parties

Visit from Captain Sparrow and Elizabeth.
Pirate themed games teach them how to become pirates.
​ Lead them on prearranged treasure hunt (set up by host).
Pirate treasure for all guests

Sword fight and training using Balloon swords

Captain leads all into singing Happy Birthday to the guest of honor
And many surprises that will keep our young pirate mates entertained

---

Bartending

Drink up me hearties! Have your own pirate or celebrity look-alike bartender for a party or event. Both Capt Jack and Elizabeth are legal, which means that they each have their TABC license to keep everyone out of hot water. Jack is a Qualified Mixologist. That's a mouthful and after a couple of drinks that can be shortened to barkeep. For the very adventurous pirates, we have our own specialty pirate drinks, sure to quench the thirst of any bloodthirsty er… rumthirsty… pirate.



---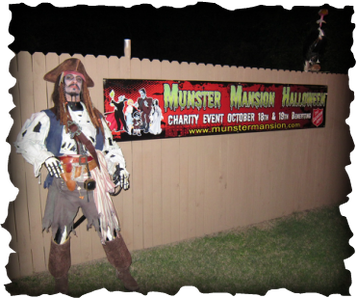 Charity Events
Captain Sparrow and Elizabeth would love to come support your charity or non-profit organization.
Please contact us with your requirements and the Captain and Elizabeth will have fun and charm your guests.
---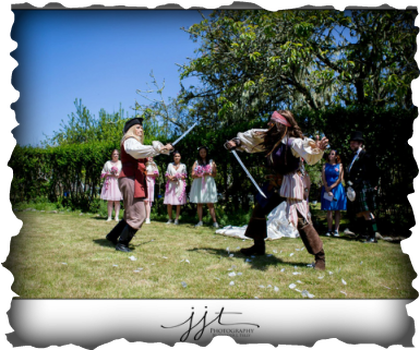 Weddings
Why are the rings gone??
Elizabeth has once again stolen the wedding rings and it is up to Captain Jack to get them back from her so the wedding can proceed.
If you've never to been to a wedding with pirates, you are in for a unique experience. Jack and Elizabeth can add an extra touch to make that memorable event even more memorable.
---
| | | |
| --- | --- | --- |
| Want that special touch for your event? Something unique perhaps? The Captain has his own personal ship "The Black Pearl". The ship has 3 masts and is 18ft long with plenty of detail and can be towed to your venue. This ship attracts attention wherever she goes. Perfect for parties, Fairs, photo opportunities, corporate events or any Pirate themed events. Contact us for price and availability. | | |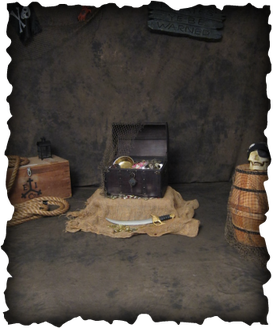 ​
Pirate themed adjustable photo background
8' wide x 8' tall
to
13' wide x 10' tall
All Pirate props and some costume apparel are included in rental fee

A sound system is also available for large areas or a large audience is also ​available for an additional fee

---

Pair of Pirates Locker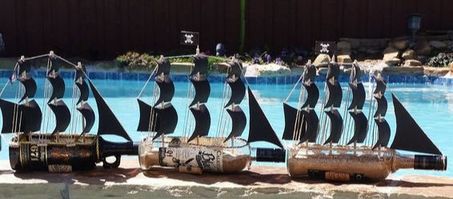 We carry unique works of art made from your favorite rum, whiskey, tequilla, or vodka bottles. Ships are one-of-a-kind ships that work great as gifts, pirate decorations or centerpieces. Or just for the Pirate in you that begs to have one. All ships come complete with sails, rigging as shown, sand and a treasure chest.
---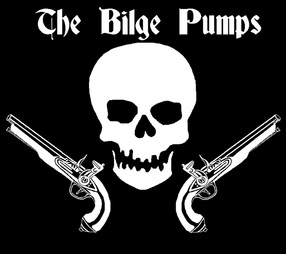 ​ Pirate Music
Captain Sparrow loves music and when he is not sailing the seas, he moonlights with this band as Jack The Rum Runner
The Bilge Pumps
are a pirate music group based in the Dallas/Ft, Worth area who specialize in performances that combine sea songs, shanties, and Celtic music with a huge dose of silly comedy. -To see more and for band bookings go to
www.
thebilgepumps.com
---

Payments and Terms

The Captain accepts Aztec gold, cash, checks, shillings, and PayPal (preferred). Credit card payments must be paid through PayPal. A $50. deposit is required at the time of booking. The balance due must be paid at the conclusion of the event in cash. Returned checks will incur an additional $30 fee.
You will receive a confirmation email with all of the agreed upon details of your event.
Due to scheduling and preparation costs, cancellation may result in the loss of your deposit. Cancellation within 14 day's notice will get a full refund.
Pair of Pirates is based out of Dallas, Texas. Travel up to 30 miles from Dallas is included with your package pricing. Due to higher fuel costs, beyond 30 miles will incur an additional travel charge per mile. Extended appearances and/or travel beyond 200 miles one way will require lodging and/or additional travel charges.